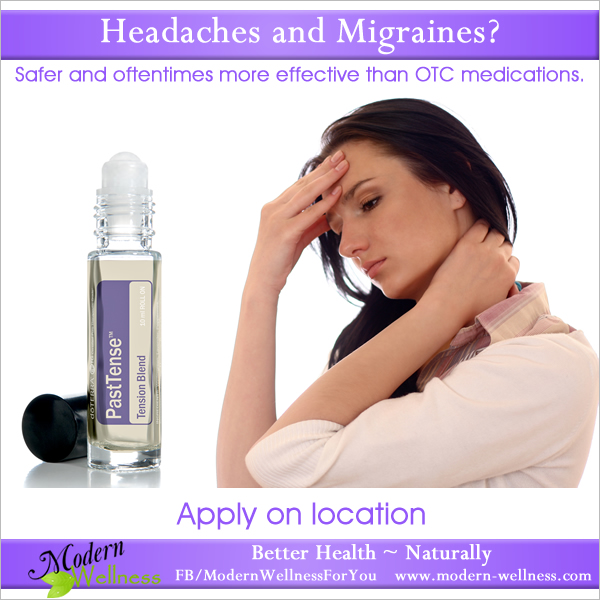 PastTense, dōTERRA's proprietary blend for tension and the discomfort associated with headaches, provides calming comfort with the strength of CPTG® essential oils of wintergreen, lavender, peppermint, frankincense, cilantro, marjoram, roman chamomile, basil, and rosemary. Packaged for convenient application in a roll-on bottle.
This blend is commonly used for:
Headaches

Migraines
Muscle Tension
Tension Headaches
Muscle Pain
This blend can be used topically or aromatically and may need to be diluted for sensitive skin.
Testimony:
"Prior to having this fantastic oil in my arsenal I would wind up in the Emergency Room begging for something for the pain. At the inkling of a migraine I use the Past Tense on my temples, forehead and back of my neck and gently massage the oil in. Occasionally, I will need to repeat after 15 minutes. It really knocks them out. I haven't had an Emergency Room visit since December and believe me that is a huge "win" for me and our pocket book." – Lynda E.
"Just wanted to do a quick testimonial on Past Tense. So it came in my intro kit and since I don't really get headaches I hadn't found a need to use it much. My friend gets them along with anxiety so I lent it to her. It was helping her a lot so she is keeping it. We were at lunch the other day at a pizza spot, she handed her 21 month son a small slice that she thought had cooled off enough. It hadn't. The cheese slid to his little knee and he was screaming in pain. I am normally in the habit of carrying my oils but since I didn't have my own toddler with me they were in my diaper bag at home. As I tried to get a waiter's attention for some ice she was applying water on it. His knee was so red and he kept screaming. I told her how sorry I was that i didn't have my 'kit' and what I would do for some lavender and Peppermint right now!! She told me she had the past tense in her purse, would that help? I figured it couldn't hurt especially when I read all the ingredients. Within SECONDS of applying the little boy stopped screaming and the redness instantly went away! There is lavender and peppermint in it already as well as lots of other good oils. So to all you mommas that if like me, haven't gotten around to buying a travel kit yet..I say pick up a bottle of Past Tense. I can see it being an amazing first aid oil! It's already in the roller bottle so easy to keep in the diaper bag. It can help with migraines, burns, and just an all around great boo-boo cure all for mom and baby in my opinion! I still have so much to learn and love how these oils still amaze me. I will be picking up a few more Past Tense this month!" –Lea M.