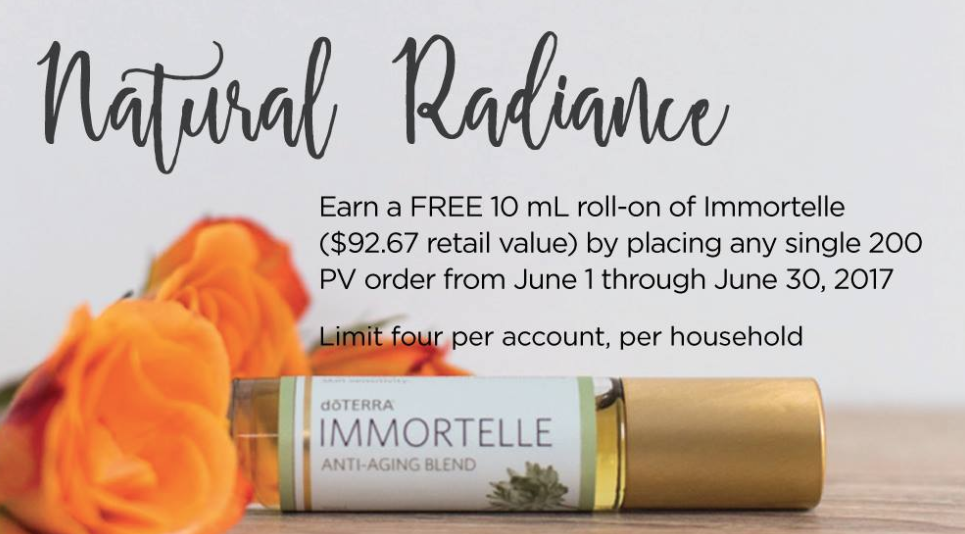 Welcome! This month you have the rare opportunity of getting a huge bonus when you join doTERRA! Enroll as a Wellness Advocate or Wholesale Customer with 200pv or more you will get a Free bottle of Immortelle – doTERRA's Anti-Aging Blend!
What does it mean to become a Wellness Advocate or Wholesale Customer?
A doTERRA membership is very much like a Costco or Sam's Club membership in that you get access to wholesale prices for a full year, yet it's better because the more you purchase the more you get back! 
What is the difference between a Wellness Advocate and Wholesale Customer?
A Wholesale Customer is just what it says…a customer that receives the Wholesale benefits. This membership is the same as a Wellness Advocate except for one aspect and that is where the business opportunity comes in.
A Wellness Advocate can make commissions from educating others about the benefits of essential oils and help others get their own membership. This is the type of membership that I have. I love educating others about the incredible uses of essential oils and want them to get the most out of their membership!
How much does it cost to become a doTERRA member?
This is perhaps one of my favorite features of doTERRA's membership! You can get it basically for Free (because of the additional savings) if you purchase an enrollment kit when you join! Otherwise it costs $35 to join.
What are Enrollment Kits?
Enrollment Kits are collections of oils and/or products that doTERRA has created to help new members get started off on the right foot. The kits range from the AromaTouch Diffused & Family Essentials Enrollment Kits ($150) to the Diamond Kit ($2,500 – contains every product doTERRA offers). 
You can view all of doTERRA's Enrollment Kits by clicking the link: doTERRA Enrollment Kits
How do I qualify for this promotion?
It's simple to qualify. When you join (by following the steps below) you'll want to select an Enrollment Kit that is 200pv or more, or if you're going to purchase an Introductory Packet just make sure that you add 200pv worth of product to your cart before checking out. 
How to become a doTERRA Member:
Click here and select your country/language
Select Wholesale Customer (unless you're also interested in building a business – then select Wellness Advocate)
Fill out the form (make sure the sponsor and enroller number is 46524 – this will make you a valuable member of our team so we can provide you with support)
Choose one of the Enrollment Kits (I love the Home Essentials Kit – it contains full 15ml bottles of the top essential oils as well as a Petal Diffuser).
Finish the checkout process.
Send me an email to let me know you've joined our team so I can get you plugged into some additional resources.
doTERRA will send your free product with your order.
That's it! Super Simple!
Only available for residents of US and Canada. If you are in another country please contact me to see what promotions are available to you.
Must be a new Wholesale Customer or Wellness Advocate
Enrollment order must be 200pv or more