Simple DIY Deodorant Recipe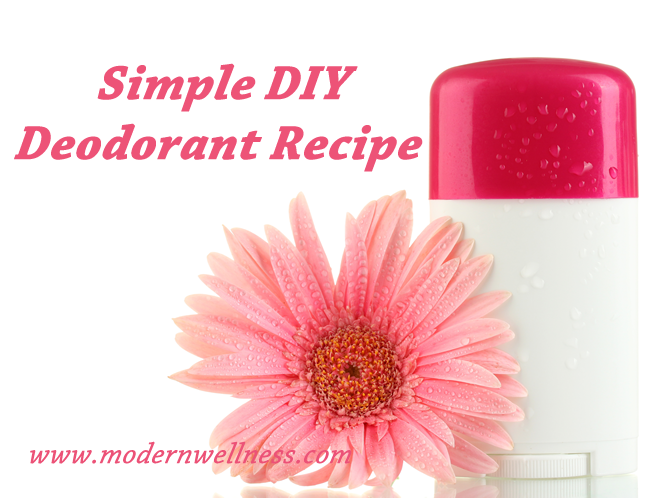 It's no secret that deodorant can contain highly toxic ingredients that seep into your skin and cause all kinds of problems. I stopped wearing traditional deodorant over two years ago and then decided that I couldn't go without it either. I smelled very…unladylike. I scoured the internet for a DIY recipe and came across some that were very unappealing and then I found one that I thought I could work with. I've modified it to my liking and I have to say I'm in love! I ran out not too long ago and thought I would just go try one from the health food store. Fail! It was not at all like mine so I broke out the recipe again and went to work. I'm so thrilled to have my deodorant back!
Ingredients

Servings: deodorant tubes

Units:

Instructions
Combine the wax pellets, shea butter, and coconut oil in the top of a double boiler and melt completely. (I use a glass bowl over a pot of boiling water. It works great!)

Turn off the heat and add the arrowroot powder (you can use cornstarch as a substitute but you'd want to make sure it's non-gmo and it can cause irritation) and baking soda. Mix until no clumps are left. Make sure you stir good from the bottom up so it mixes well. Otherwise the baking soda and arrowroot will sink to the bottom.

Add your essential oils (You could use other oils. I love these for their amazing skin benefits) and Vitamin E and stir.

Fill the tubes (The mixture will settle as it cools so you can fill to the brim).

Let cool completely before putting on the lids (4-5 hours).

Apply conservatively (2-3 swipes is generally plenty).
Recipe Notes

In the summer, if you live in a warm place, this recipe can get pretty soft and you may have to apply by hand. Also, this will not stop you from sweating. It will absorb some of the wetness but the results will vary depending on each individual. It does keep the stink away though.
Christy (aka Sunshine Mama) is the wife to 1 (amazing husband), mother of 3 (wonderful children), lover of health, wellness, the beach, and sunshine. She is passionate about living an inspired life and loves to inspire others to live life at their fullest. You can find her online educating others on how to live a more natural lifestyle, especially on how to use essential oils…or hanging out at the beach.
---
---