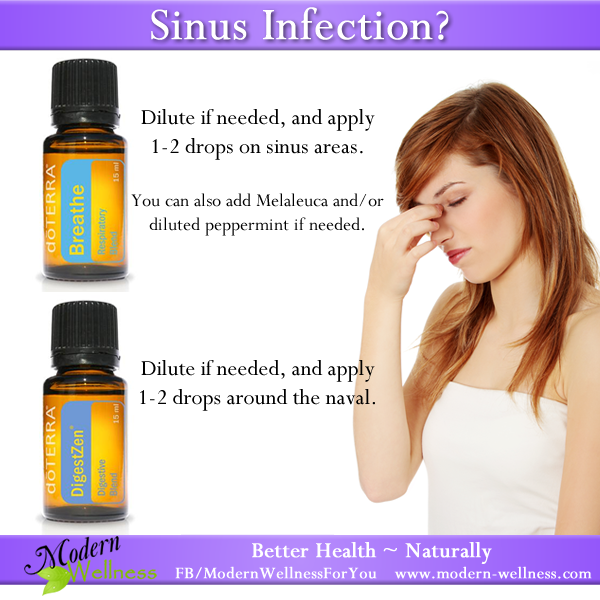 Sinus Infections are terrible and the normal method of getting rid of them are to go to the Dr. and get a prescription. The problem with that is that they don't always take care of it so you end up with chronic infections and on medication after medication. Prescriptions more often than not mask symptoms instead of getting to the root problem.
Essential oils are a great tool to rely on when you have a sinus infection. The following is a testimonial from April @ Holistic Homemaking.
"Yesterday I woke up with a sinus infection. Sinus infections always progress the same way for me – I get congested, I get awful pain from my forehead down to my jaw, and then no matter what I try (OTC meds, NetiPot, etc) it will not get better. I end up in the doctor's office and get the diagnosis of sinus infection. Then I am prescribed medication(s) to deal with the pain, congestion, and infection. I take those medications for about 1.5-2 weeks.
So yesterday I decided to try something new. If it did not work then I would call my doctor. I have heard of people using essential oils to treat sinus infections, so I decided to try it out. The worst that could happen would be that it wouldn't work, and I would find relief by getting medicine from my doctor.
So all day yesterday (every 3-4ish hours) I rubbed 2 drops each of peppermint, melaleuca (aka tea tree), and an essential oil blend called Breathe on my nose and outward toward my cheeks. I rubbed these oils on my forehead and temples also. If there was any left I rubbed some behind me ears and on the back of my neck. I also rubbed an oil blend called DigestZen on my stomach.
I kid you not … by lunchtime I had NO PAIN at all! This is unheard of for me because sinus infections always progress a certain way for me. I kept applying the oils throughout the day (and am doing them today for good measure), but the sinus infection is GONE! To think, I would have spent at least $25 on a doctor visit and medication … but instead I spent
Peppermint – 7 cents per drop
Melaleuca – 8 cents per drop
Breathe – 8 cents per drop
DigestZen – 13 cents per drop
for a total of approximately $1.35.
Woohoo for essential oils!"
Now some will ask, why DigestZen? Oftentimes when people suffer from chronic sinus infections it's because their system has a build up of mucus. When we apply DigestZen around the naval it helps to clear out the excess mucus so that our sinuses can drain properly. Such a powerful combo!