Top 6 Benefits of Coconut Oil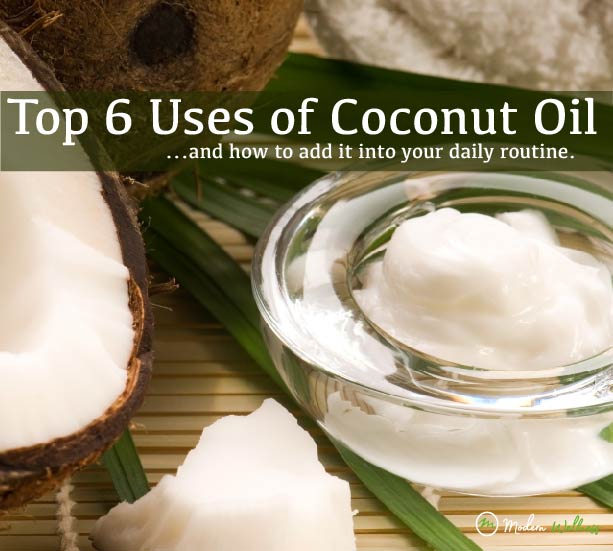 Coconut oil is an edible oil that is consumed throughout the world. The health benefits of coconut oil can affect your entire body, inside and out. Studies have shown that coconut oil can help our bodies mount resistance to both viruses and bacteria that can cause illness. Due to the high saturated fat content it takes a long time before it goes rancid.
Let's talk about some of its benefits:
Fight off yeast, fungus and candida
Positively affect hormones for thyroid and blood-sugar control
Improve insulin use within the body
Increases digestion and helps to absorb fat-soluble vitamins
Improves skin issues
Conditions and strengthens hair
Here are some easy ways to incorporate coconut oil into your diet and personal care routine:
The fatty acids in coconut oil are metabolized quickly, providing a nice natural boost of energy (rather than being stored as fat). 
Coconut oil has a high smoke point, subtle tropical taste and zero carbohydrates, which make it a perfect cooking oil for almost any dish. Next time you fry up a batch of sweet potato fries, use coconut oil.  It is also great in most baked goods, use as a dairy-free replacement to butter.
To get rid of baby's cradle cap, just massage coconut oil into scalp, leave on for a few minutes, then gently rinse with a warm wash cloth.
Make this foot scrub to exfoliate and soften skin.
Use coconut oil as a shaving lotion, to provide a close shave and to moisturize at the same time. Coconut oil is a wonderful moisturizer for skin and hair. It has good amounts of the antioxidant vitamin E, which is very protective.
Coconut oil makes a great overnight conditioning treatment for hair. Rub a small amount of coconut oil into hair (mostly at ends), comb through, then put hair in a loose bun.  Wash coconut oil out of hair in the morning.
Coconut oil can help sooth psoriasis or eczema. 
If you're looking for a high quality coconut oil we highly recommend this Organic Coconut Oil.
PUT IT TO USE: 
Sources and Additional Helpful Information:
http://www.ncbi.nlm.nih.gov/pubmed/17651080
http://coconutoil.com/
http://wellnessmama.com/2072/benefits-of-coconut-oil/
http://draxe.com/coconut-oil-uses/
---
---