Essential Oil Infused Pine Cones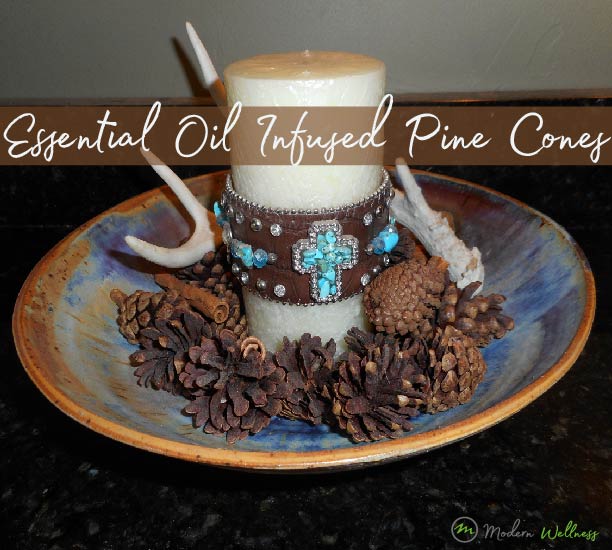 I love walking by a counter, tv stand, coffee table, or bookshelf in my home and getting a quick whiff of a delightful aroma. This often is created by the use of a candle, potpourri, or synthetic air freshener. With the use of essential oils we can eliminate the toxic chemicals and create a beautiful/natural aroma using diffusers and (one of my new favorites) essential oil infused pine cones! Not only do they smell wonderful and are all natural but you can create unique blends that are specific to your needs (aromatherapy and potency). Oh, and they make beautiful natural decor in your home!!
Want to make your own?! Here is what you will need:
Spray Bottle

Water (I used about 2 oz, the amount will vary depending on how many pine cones you are wanting to infuse and their size)

Pine Cones (Big or small, use what you think will work best for you. I chose smaller pine cones for this batch because I knew I was going to use them in an arrangement.)

Ziplock Bag

Essential Oils

Optional additions: cinnamon sticks, dried rose buds or petals, dried sage sprigs, dried lavender, etc.
Directions:
Put water into your spray bottle. This will vary depending on how many pine cones you plan on infusing and how big they are. I used about 2 oz.

Add your oils to the water.

Use whatever blend or single oil you like!

I chose to use

dōTERRA On Guard® (protective blend), dōTERRA Wild Orange, and dōTERRA Clove.

For this batch I used 3 drops On Guard, 2 drops Wild Orange, and 2 Drops Clove. Add more or less oils to the water depending on the potency you are trying to achieve. I did have a little "mixture" left over that I threw in my diffuser…it was heavenly!
Place your pine cones in a Ziplock bag (make sure the pine cones are as clean as possible) and spray your oil/water mixture into the bag, saturating the pine cones. When you feel like they are coated sufficiently, zip up the bag and let them sit for 24 hours. The longer you let them sit in the sealed bag the more infused your pine cones will be.

After your 24 hour (or longer) wait, remove the pine cones from the bag and let them dry completely.

Make your arrangement. This is the fun part!! I made this batch with the intention of them going into a country themed room in my home. I selected a favorite piece of pottery given to me, placed a candle in the center (decorative only/unscented), and placed my infused pine cones around it. I topped the arrangement with a small deer shed antler I had laying around and a few

cassia

sticks for that extra kick of cinnamon scent (it's seriously one of my favorites!!). Depending on your oil choice and the aroma you are trying to achieve, you can add cinnamon or cassia sticks, dried rose buds or petals, dried sage sprigs, dried lavender, etc. to make your own special potpourri. Large infused pine cones alone, strategically placed around the home are just as beautiful as an arrangement.  
Have fun with it and give your home that special touch with these DIY, all natural, beautiful, custom essential oil infused pine cones!
---
---