Homemade Chicken Noodle Soup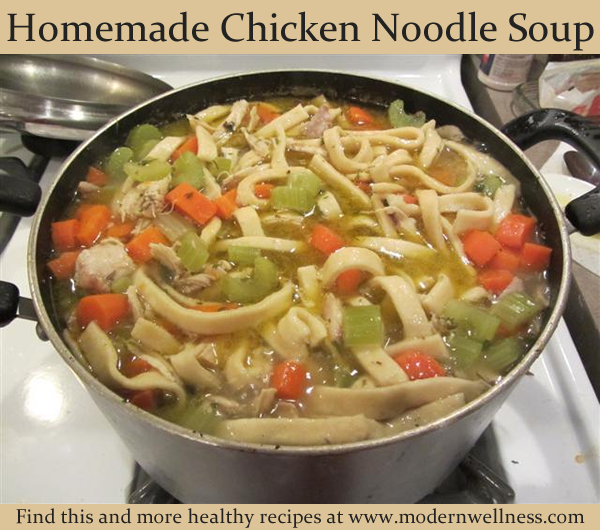 Ingredients

Servings:

Units:

Instructions
Add first 7 ingredients (seasonings and onion) to 2 quarts of water. Quarter the chicken and place the quartered parts in the broth. Boil covered for 1 1/2 – 2 hours depending on the size of the chicken.

After it's cooked, de-bone the chicken. Put the chicken in the fridge and the bones & skin back in the broth. Let cook for 30 more minutes.

This is when we usually cut up the vegetables. We like lots of vegetables in our soup so we usually cut up the whole stalk of celery and a pound of carrots. You can do less or more depending on your family.

Remove the bones, skin, and onions (optional) with a strainer spoon to make sure you get all the small bones. Most of the herbs get strained out as well.

Add the veggies to the broth. You can season to taste at this point. We generally add in some more of the above seasonings and a pinch of black pepper. Turn the heat to high until it starts boiling, then turn down to medium and cook for 30 minutes.

Add homemade noodles (recipe linked below) to soup and let simmer for about 5 minutes to let the noodles cook.
Christy is the wife to 1, mother of 3, lover of health, wellness, the beach, and sunshine. She is passionate about living an inspired life and loves to inspire others to live life at their fullest. You can find her online educating others on how to live a more natural lifestyle, especially on how to use essential oils.
---
---