The Alchemist – A Bookshelf Must Have
Early this Spring a dear friend of mine, who is a freelance writer and Nonfiction Writing student, and I were out enjoying the beautiful views of Montana on horseback. We often did this when I could drag her away from her pile of books and convince her she needed a break. These moments seems to be a kind of a therapy session to me more than anything. It is hard to explain the healing nature of a horseback ride in breathtaking country to someone who has never experienced it for themselves. Oftentimes our conversations consisted of the day to day topics such as school, work, relationships, world news topics, dating, etc. On this particular ride the topic of literature and good books were brought up (derived from one or two of the previous topics I listed which we had been discussing). She mentioned to me a book she had read that I HAD to read as soon as possible….The Alchemist by Paulo Coelho.
Now I am a lover of books in general. It is not uncommon to find me curled up in a cozy blanket with a good book and a cup of hot cocoa. I love getting swept away in romance novels, elevating my heart rate with a good mystery or action packed read, transporting in time with a historical  story, or even finding personal growth with a self help book. When a book comes highly recommended from someone who is as well read as she is I knew I had to bump it to the top of the list.
I cannot remember the exact context of the conversation were were having at the time but it had to do with choices in life and the paths we are meant to take. There are often times you come to a crossroad in life; whether in your career, personal relationships, schooling, etc. and we are faced with choices that we must make. The scary part, for me anyways, is making sure I make the right choice or decide to walk the path that is going to get me where I want to be. What is so scary about that you might ask? Well, the fear comes from not knowing the consequences of your choices. Granted, we have a pretty good idea of certain outcomes. You graduate high school, you choose to go to college and choose a major that you are interested in that holds financial or fulfilling  promise, you choose to move to a new town where job opportunities are more prevalent, and now you have done everything you can to set yourself up for the successful life you have desired. But as we all know…life doesn't always go as planned. There are mountains to climb and valleys that seem to swallow us up all along the way. Not to mention that google maps app has not updated and takes you somewhere you never intended on going (metaphorically speaking…or not).
Life. It is never ending in trials and surprises. The joys and lessons you find in the little things…That is what this book is about. You accompany a young man, Santiago, that did what he thought he always wanted. He dreamed of being a shepherd because of the adventure it brought into his everyday life and the companionship of his sheep. He was living his dream until one day advice from a stranger opened his eyes to what he could truly become.
This book is full of adventure, a quote on every page that will speak to you, uplift you and motivate you, unlikely friendships and even a little romance. In a review my friend wrote she stated: "I highly suggest reading this novel with a pen in hand to circle encouraging lines and write in the margins. On days bogged down with doubt, you can flip through the pages and read the gems [there are many] Coelho placed in the pages for exactly those days. The almost childlike simplicity of his writing exercises one of his recurring messages: the simple things in life are often the most beautiful. The simplicity of Coelho's writing makes for a quick read and his ideas make it worth reading again. The Alchemist reads like an adult fairy tale while working with themes of faith, philosophy, happiness, love, and more."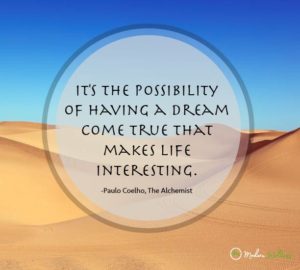 What I love most about this book is the hope it brings into your heart and mind as you read it. Everytime I read (or listen) to this book I pick something up I hadn't before or it speaks to me differently because I am in a different place in my life. It encourages you to have dreams and to pursue them with your whole heart invested. Not only does it encourage you to dream but it doesn't sugar coat it. In any pursuit of your "personal legend" (or dreams) you are going to face trials, you will need to learn and grow, you will need to put in the work and the time. Dreams are rarely achieved overnight. You may even get sidetracked at times.
If you are looking for that next good read, give The Alchemist a shot. It is a short, easy read but one that is well worth your time. I promise you will find yourself returning to it time and time again.
See some of the most famous quotes from The Alchemist here.
---
---