Top Benefits & Uses for Colloidal Silver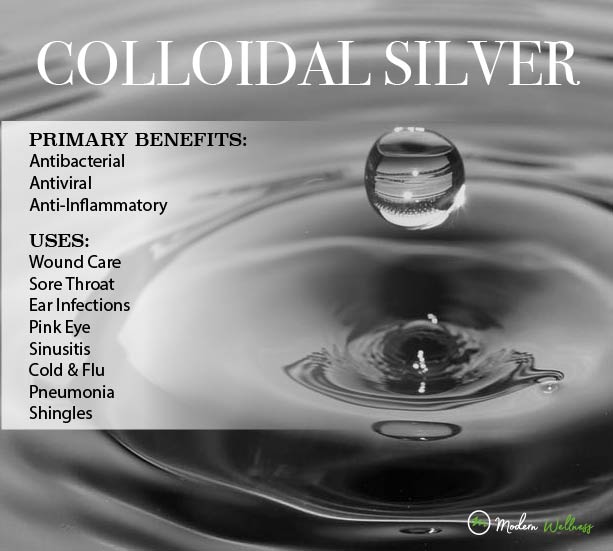 Years ago I was introduced to colloidal silver and was a little hesitant about using it since I had heard that it could turn your skin blue. The crazy thing is that it can if  you use a low quality solution that contains salts and proteins. As with everything, we teach to go for quality when you're looking at purchasing anything health related! It will make a difference. Colloidal Silver is no exception to this recommendation.
I am not a doctor or a scientist so research isn't really my language but I am a Mom and results are definitely my language! Earlier this year after going through the moving process, dealing with some things personally, and trying to adjust to life in a new place I came down with shingles of all things. I could not believe it when it happened! I didn't even know what it was. It took my husband a little digging (research is definitely his language) to pinpoint what it was (I'm not inclined to run to the doctor). After pointing me in a direction I did read up as much as I could on what causes it, what relieves it, and more than anything what natural options I had. Colloidal Silver was at the top of the list and one of the things I relied on heavily to make it go away faster. My shingles only lasted about two weeks. I've heard that is a very quick healing process compared to most. I loved Colloidal Silver before then but fell even more in love (if that's possible) after this incident. 
Primary Benefits of Colloidal Silver
Antibacterial
Antiviral
Anti-Inflammatory
Uses of Colloidal Silver (there are obviously loads of uses but here are some more common ones)
Wound Care
Sore Throat
Ear Infections
Pink Eye
Sinusitis
Cold & Flu
Pneumonia 
Shingles
Depending on where you purchase your Colloidal Silver from (we use Dr. Mercola's) you can get them in a variety of bottles. The ones we have come with a nasal spray top, a regular spray top, and also in larger bottles for oral use or to refill your smaller bottles. Having a variety of bottles allows you the ease of using how you need to (sinus rinse, wound care, internal use, etc…) in any situation. If you don't have this in your natural medicine cabinet, you should!
What are some of your favorite alternative healthcare products?
Resources:
---
---