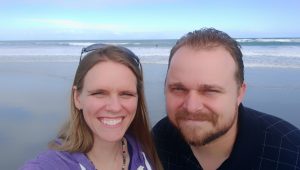 When our first son was born in 2006 we were thrilled! We had already been blessed with a beautiful daughter and we were so excited for the addition of a son. However, with this new addition, we didn't realize that each child not only comes with their own personality but that their individual immune systems could be very different as well. Our daughter was always healthy, vibrant, and full of energy. So we assumed that was what we could expect with our son, but as our son began to grow we noticed that he seemed to catch everything that was floating around. Not only would he catch everything but it would linger for weeks. It seemed like one sickness just rolled into another, then another, repeated for the first four years of his life. Finally one day, we had a friend recommend that we look into essential oils to help boost his immune system. We were skeptical to say the least but at that point we knew that we needed to find something since nothing else was helping him.
As we started looking into, and researching essentials oils we also started to find information on how important it was to be aware of the ingredients in the food we were eating, as well as the types medications we were using in our home. We began to question the way we addressed the common illnesses in our family. We moved from eating, and living the traditional way to a more natural mindset fairly quickly. Once you understand what to look for and why you need to make changes, it doesn't take a lot of time before you can't ingest one more candy bar or pop one more pill with out considering how it will affect you or your family's health. It wasn't always easy, and there were days (and still are) that we feel like we just want to ignore the labels and eat whatever. The downside (or upside depending on the way you look at it) is that whenever we eat junk now, that's how we feel…like junk.
Since then living more naturally has become a way of life for us. We love to drink green smoothies, eat raw food, prepare home cooked meals, make our own personal care products, grow our own garden, and care for the health of our family as naturally as possible. We don't have it all perfected yet, but we do strive to continue to educate ourselves and others. It has been a fun journey so far and we're thrilled that you have joined us. Wherever you are on your journey to a healthier lifestyle we hope you'll find some good information here!
To your health!
Andrew & Christy Fechser