Sesame Oil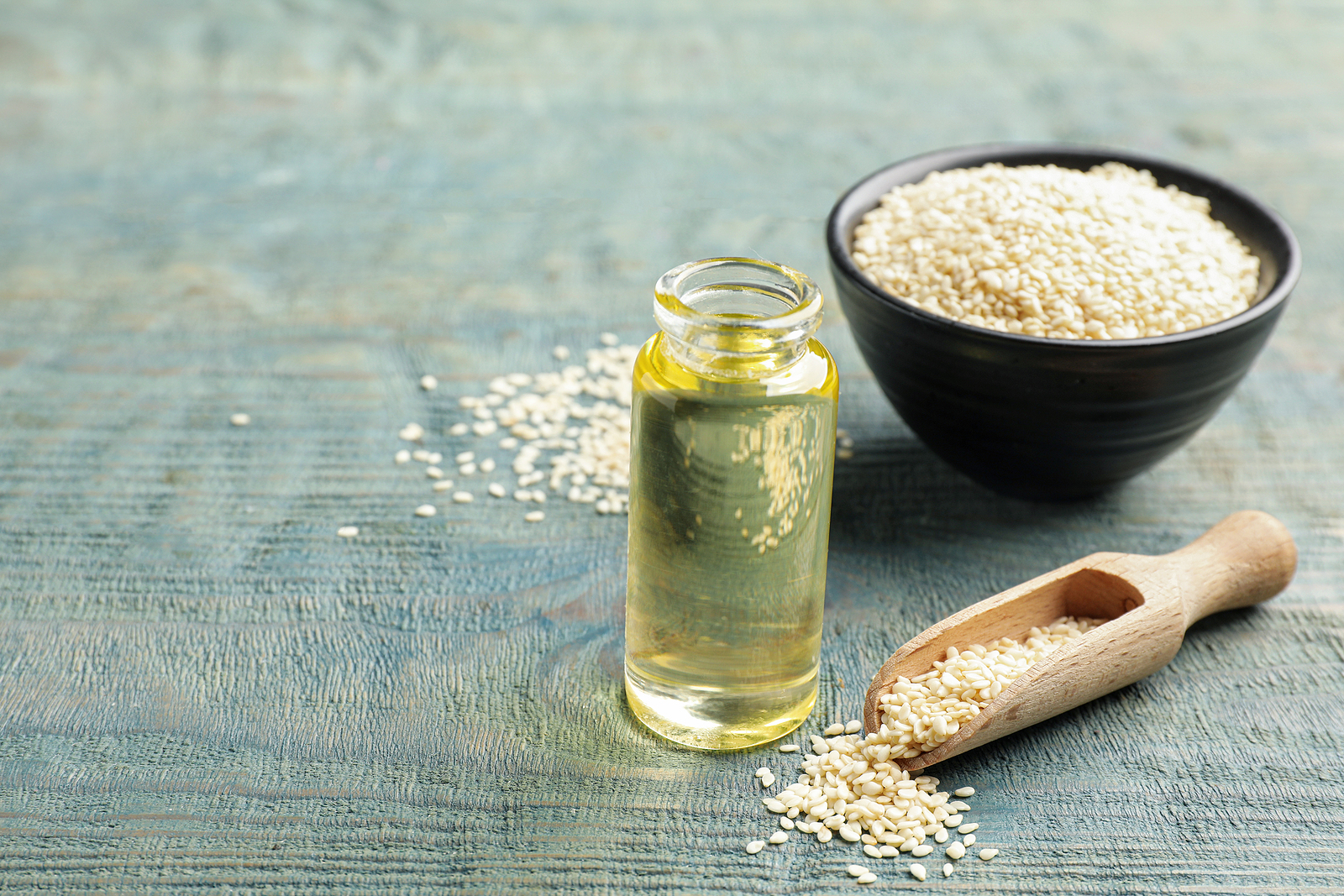 Sesame Oil has been used for hundreds (if not thousands) of years in cooking and in skin and hair care. Sesame oil is extracted from sesame seeds and is yellow in color, has a mild, nutty flavor and a host of nutritional benefits. Due to it's high smoking point and resistance to rancidity, sesame oil is a great oil to use with stir-frying. It also makes a great addition to homemade salad dressing. It has internal benefits and can also be used externally to benefit the skin and hair.
Internal Benefits
Consuming sesame oil helps increase antioxidants in the body and prevent damage to healthy cells, according to a study in the fall 2005 issue of the "Journal of Medicinal Food."
Researchers found that the sesame oil significantly reduced blood pressure in a clinical study published in the March 2006 issue of "Yale Journal of Biology and Medicine.
Sesame oil may also be able to delay or diminish the effects of Alzheimer's disease according to a study published in the June 2009 issue of "Biological and Pharmaceutical Bulletin.
Regular consumption of sesame oil may improve certain conditions of the digestive system; irritable bowel syndrome, ulcerative colitis and Crohn's disease.
A great way to gain internal benefits while whitening teeth and boosting overall oral health is by oil pulling with sesame oil.
One of my favorite ways to consume sesame oil is to make a salad dressing with it. I add 1/4 cup of sesame oil, a couple of tablespoons rice wine vinegar, 2 tablespoons each of honey and dijon mustard to a shaker container or whisk in a small bowl. This is yummy on salads or wraps or to dip potstickers in. Add soy sauce and sesame seeds if you desire.
External Benefits
Sesame oil has an antioxidant called sesamol which could prevent the appearances of wrinkles and fine lines.
Sesame is full of zinc, which is an essential mineral for producing collagen. Zinc is great for healing damaged tissues in and on the body.
Sesame oil has natural anti-inflammatory and  antibacterial properties. It can be beneficial to apply sesame oil to foot fungus or yeast infections.
Sesame oil makes a warming massage oil that also pulls toxins from the skin.
Sesame oil makes a great massage for scalp. It conditions the scalp and improves the health of hair follicles. It can be used to combat dandruff.
Sesame oil can be used to make a natural lice treatment.  Add several drops of Lavender and Rosemary essential oils to 1/4 cup of warm sesame oil. Massage onto scalp and through hair. Let sit for 30 minutes. Use a nit comb and comb through before washing.  May need to apply once more.
There are many types of sesame oils on the market.  It is best to always choose cold pressed virgin sesame seed oil, whether you want to use it in recipes or skin and hair care.
---
---