Amazing Uses for Aloe Vera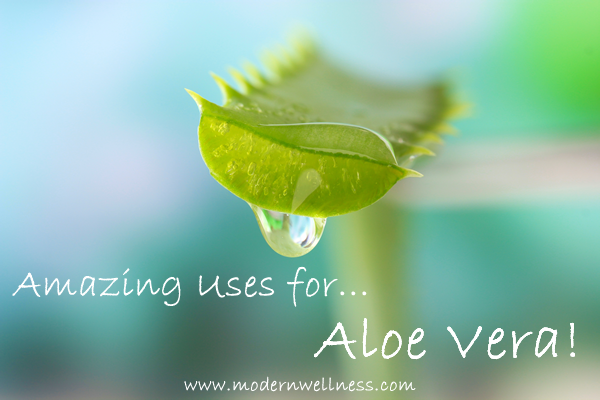 I love Aloe Vera! My Mom had a plant all growing up and it was the first thing we applied when anyone got a sunburn. In fact, this past weekend we were at my Moms and my daughter got sunburned pretty bad on her face. After applying my Burn Cream we applied Aloe on it.
Aloe is super easy to grow. Once it has mature leaves you can just cut one off, slice it lengthwise and apply directly on the skin. It's so soothing! You can also find Aloe Vera gel in most health food stores. Be sure to check the ingredients though as some contain alcohol, artificial colors, fragrance, etc…
Here are some other great uses for Aloe Vera!
Shaving gel
Aloe vera is a perfect natural substitute for those awful, chemical-laden shaving gels and creams found in drug stores. Firstly, the plant consists of approximately 95 percent water, so it provides a nice, slippery surface that allows for a pleasant, close shave. Secondly, it is packed with anti-inflammatory enzymes, making it good for treating shaving nicks and rashes. Lastly, it moisturizes and nourishes the skin, leaving it feeling soft and rejuvenated. You can use aloe vera gel alone for this purpose, or mix it with other skin-friendly ingredients, such as almond oil or eucalyptus oil, for an even more luxurious shave.
Treats bad breath
Bad breath, or halitosis, is a common medical condition that affects an estimated 1 in 4 people on a regular basis. Though commercial toothpastes and mouthwashes can help treat it, their aggressive and unnatural ingredients often leave a lot to be desired. Instead, consider aloe vera. Aside from being a potent antibacterial, aloe contains an anti-inflammatory compound named beta-Sisterol that is known to soothe acid indigestion, which (along with oral bacteria) is a common cause of bad breath.
Though aloe vera does work alone as a mouthwash and toothpaste, mixing it with baking soda seems to have a particularly powerful effect. Aloe vera oil can also be used for oil pulling, the ancient Ayurvedic practice of cleansing the mouth by swishing oil around it for between 15 and 20 minutes.
Makeup remover
Unlike commercial makeup removers, which often contain harsh chemicals that dehydrate the skin, aloe vera gel is a natural and gentle way to remove makeup (including makeup around the eye, where the skin is most delicate). Simply squeeze a dollop of the gel onto a cotton ball and gently rub the makeup from your face. Incidentally, refrigerated cotton balls soaked in aloe vera make an excellent compress for tired and puffy eyes.
Source: NaturalNews.com
---
---