Put Your Aloe Vera To Use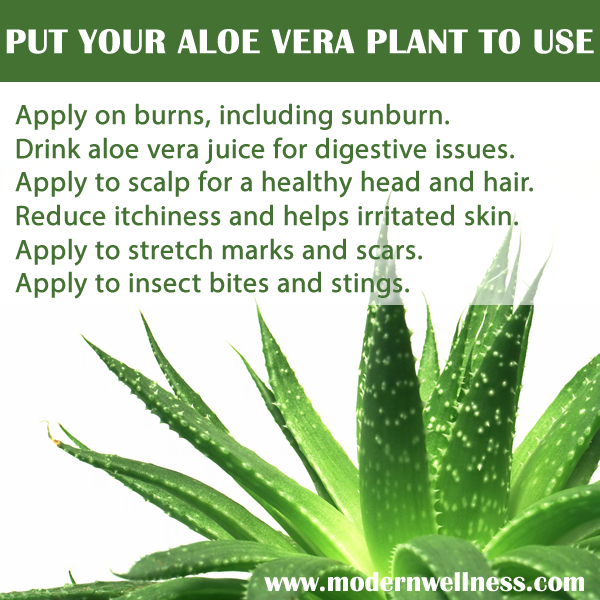 Aloe Vera is a succulent plant species which has been used in herbal medicine since the beginning of the first century AD. Aloe Vera is widely used in the cosmetics and holistic health industries due to its healing and rejuvenating abilities. If you are thinking about introducing a new houseplant to your home, Aloe Vera offers many health benefits and is easy to maintain.
How and when to use your Aloe Vera plant:
Burns (including sunburn) – simply apply juice from a leaf directly to burned area. I keep an Aloe Vera plant in my kitchen, so handy for those annoying and painful kitchen burns! It definitely provides soothing relief for the skin. Aloe Vera leaves may be refrigerated and should be used within 2 weeks of cutting.
Digestive issues – Aloe Vera is wonderful for regulating the bowels by easing gas, bloating, and constipation.  You can buy Aloe Vera juice at the store or make your own if you have a plant at home. Here's a great video showing you how: Aloe Vera Juice  *Caution For Diabetics: Drinking Aloe Vera juice might enable the pancreas to produce more of its own insulin. Before taking internally, diabetics should have their physician monitor their need for extra insulin since too much is dangerous.
Aloe Vera is wonderful for scalp and hair. It promotes hair growth and sine/health, healing of scalp issues, and provides needed moisture. Here's how to condition your hair with Aloe –Aloe Vera Conditioner.
Apply Aloe Vera juice directly to skin that has been irritated by poisonous plants or other allergens. Aloe Vera can reduce itchiness and promote healing.
Many women swear by Aloe Vera for stretch marks. Apply gel or juice directly to stretch marks, apply often to encourage healing. Aloe Vera can be drying when used alone, due to it's astringent component. Use with coconut oil when necessary.
Split open an Aloe Vera leaf and apply leaf directly to insect stings or bites. Also useful for jellyfish stings. Please go to the nearest Emergency Room if you have a serious allergy to the insect or if swelling or respiratory issues occur.
When using your Aloe Vera plant, use leaves from the bottom  and outside of the plant. The older leaves contain more gel and juice, Harvesting your Aloe Plant. Now, I'm headed out to my local farmer's market to pick up two more of these amazing plants!
HERE ARE SOME OTHER IDEAS:
---
---