Six Actions You Can Implement To Take Control Of Your Health
The first step in solving a problem is recognizing that there is one!
Most people understand that this our healthcare system is broken. People are getting sicker and sicker despite their medications, doctors are being paid off by the pharmaceutical companies, governments are mandating mandatory treatments…you get the idea, right? I want to highlight some of the top issues with our current system and then provide some ways we can fix it.
Problem #1 – Cost: I was recently listening to a podcast on traveling abroad and a woman shared her experience of her son getting salt poisoning while in a foreign country. He was rushed the emergency room where he stayed for days to get the proper care he needed. The shocking part of the whole thing was what it cost her for those days of medical care…$11. That's it! I understand that it was not a first world country but you can see there is a huge difference between the cost of our medical care in the US and the care of those in other countries.
Problem #2 – Lack of Prevention: When you go to a doctor or a hospital you are never asked "What does your diet consist of? How often do you exercise? Do you feel stressed? How many hours a day/week do you work? When was the last time you took a vacation?". They only want to know "Do you smoke or drink? Are you pregnant? What medications are you on?" HELLO! We are products of our environment. If you eat fast food everyday, never exercise, work 40+ hours a week, and feel anxiety and stress you. are. going. to. feel. SICK! No amount of medication is going to help you fix the underlying problem, which brings me to my next point.
Problem #3 – Smoke and Mirrors: Did you know that medications don't heal your body? When I was growing up I had no idea that medications weren't good for me. One would think that if a company was going to sell a product to a sick person then it must be good for them so it can make them better, right?! WRONG! Medications absolutely do not help you get better they just mask the symptoms so you think you are better but what's really happening is that they are causing a whole slew of other problems. See the insert of any medication and you'll see what I'm referring to.
Problem #4 – Pharmaceuticals Paying Doctors: It should be illegal for any pharmaceutical company to give a kickback to a doctor for selling their products! How is it that I can't say an essential oils will help with your allergies but a doctor can push a product and get money, trips, or other perks from it? There was a doctor not too long ago that admitted to diagnosing patients with cancer, even though they didn't have it, because he was getting money for putting said patients on a certain treatment. I'm not going to rant about this because it is so blatantly obvious that this is a HUGE problem.
Problem #5 – Doctors…the Enablers: Once upon a time ago before pharmaceutical companies corrupted the world, Doctors would recommend a diet change BEFORE a medication. Can you imagine what that would be like? You go to the doctor and tell him "I eat out once a day, drink at least 42oz of soda, and snack the rest of the day. For some reason I don't feel like I have any energy and I suffer from depression". He says "Clean up your diet! Remove the poisons, eat real food, not food-like substances. Take responsibility for yourself. Get some exercise! If you don't feel better in a month of doing this then come back and see me." Doctors enable people to be lazy and irresponsible. Look, I understand that depression is real and I'm not trying to minimize its severity BUT there are so many people who would not feel depressed if they look at their lifestyle and made some changes. The second step in fixing a problem is realizing that most of the time WE are the problem. We are too lazy or afraid to make the changes necessary to save ourselves from a life of misery.
This is by no means an all-inclusive list of all the problems that contribute to our terrible health but I hope you get the idea.
How do we solve the problem?
Like I mentioned above, identifying that there is a problem is the first step.
Realizing that we are contributors to our own misery and chaos is the second step.
Make a plan of how you're going to take control of your life.
THEN TAKE ACTION!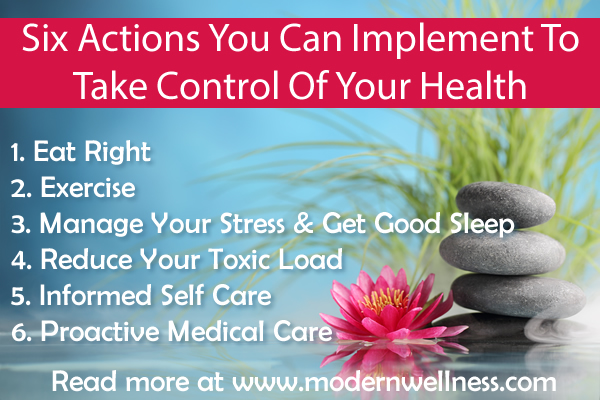 Here's a quick explanation that will help you understand what areas you should target so that you can achieve your plan for better health.
Action 1: EAT RIGHT!
Let me just start out by saying that I speak from experience, not from a soap box. To say I was once addicted to sugar is an understatement. I lived off of sugar. Besides candy, I loved pasta and anything else that would give me quick energy. When I started having kids it was a huge wake up call. I didn't want to feed them full of junk, not only was it not good for them but it also affected the way they acted and were able to learn. We started our journey towards clean eating in 2011. One of the frustrating parts about cutting sugar out of my diet, was that I was exhausted. I don't mean a little run down, I mean I would wake up and shower and I would need a nap because I was so exhausted. Being physically exhausted was also emotionally draining. I seriously thought something was wrong with me. After consulting with a few natural and alternative healthcare providers it was determined that I had severe Adrenal Fatigue. My body was so rundown from always living off a false energy supply that it was having a crisis. It took over a year to get me to a point where I didn't need a nap everyday. My body now detests greasy food and things that aren't healthy for me. That doesn't mean I'm perfect at it but I pay for it when I don't eat right. The saying "You are what you eat" is the absolute truth. Be sure you're eating an organic, non-processed diet and drink lots of water. No it isn't easy but I promise you it is worth it! Taking a good whole-food based supplement is also a huge part of feeling well.
Action 2: Exercise
This is one of the areas that I still need to spend some serious time and energy focusing on. One of the things that I am trying to implement though is to ride my bike or go for a walk daily. Not only is it good for me but it is a great way to spend time with my family. We are currently in an area that has dirt roads and wide open spaces. There is nothing better than getting outside and breathing clean air, while the sun sets, and being surrounded by your favorite people. Not only does this help my body feel better but it helps my mind feel better. There are so many ways to get exercise that don't consist of getting a gym membership. Get outside!
Action 3: Manage your stress and get good sleep
It's no secret that we as a society suffer from stress on an epic level. There are so many people, activities, and responsibilities that pull us in every direction at all hours of the day. We're on the go all day with work and/or kids and at night our minds can't shut off because there were so many things we didn't get done, or we stress because we said something wrong, or feel sick because we didn't eat right. Personal self care is also something I'm trying to focus on. The other day I hadn't eaten for a while and I realized I was turning into a grizzly mama bear. Simple fix…eat something. So many times though we run ourselves ragged because we over-commit, fill up our plates, try to be everything to everyone, and then stay up too late worrying about it all. My new motto "I can do anything but I can't do everything". Do yourself a favor. Learn how to say No and do the things that fill your well because as we all know you can't draw from an empty well. Many people will also see huge benefits from visiting a chiropractor and getting a frequent massage.
Action 4: Reduce your toxic load
I think most people don't realize that their body can be overloaded with toxins. If you consider the toxins in the air, water, and food supply it's easy to recognize how we can get toxins. Add onto that stress and it's no wonder why the vast majority of people don't feel well. We can't always avoid the toxins but we can certainly take steps to reduce the intake of them as well as flushing them out of our systems. See Action 1 to understand how we can reduce the intake of them. There are a lot of ways we can help flush them out of our systems. Drinking more water is a good start. Taking a good supplement is another way (again see action 1). If your body is severely overloaded with toxins it can cause an elimination crisis, in that your body doesn't have the ability to eliminate at the ratio that we take them in. The best way to fix this is to see a naturopath for a recommendation on a safe way to help your body start eliminating effectively.
Action 5: Informed Self Care
When we are suffering from health conditions that make us feel less than our best, there are a lot of alternatives that we can turn to as a first line of defense instead of reaching for a medication. It's important to do our own research and find out what is best for us. Two years ago my husband was diagnosed with advanced fatty liver disease. The doctor told him there was no cure and that in time he would need a transplant. That was not an option for us to just take that as the definitive answer. He did a great deal of research to find out what he could change and implement in his life and diet to heal his liver. After only three months we went back in and had blood work done again. The doctor was shocked when the results came back. His response was "Whatever you're doing, keep doing it. It's helping." We have options to take matters into our own hands and to determine what we feel is best for us. There is a slue of wellness products that are available to us. One of the things that we use everyday to help our family stay healthy is essential oils. It is one of the most valuable components of our natural healthcare regimen.
Action 6: Proactive Medical Care
After we've done all that we can personally to try and take care of ourselves, if there is a need to seek medical care be selective. Not all doctors have the same philosophies and beliefs. You want to get recommendations from a doctor that is truly interested in seeing you get healthy, not seeing you as just a number. Check for references, recommendations, hold an interview with them, and go with your gut. If you don't feel like it's a fit then seek out someone else. We are not required to stay with the first doctor we see, nor are we required to follow their recommendations if it isn't something that feels right. Educate yourself on your condition so you can have an educated decision as an advocate of your own health instead of going in blindly.
---
---